Activities for children over 7 years old
7 - 12 years
Whether in the village or on the mountain, active or rather quiet, the activities for families with children between the ages of 7 and 12 are almost inexhaustible. Whether a playful approach to the topic of climate change, water games at the lake, playgrounds, fireplaces, hiking, sledging and much more. Everyone will find a suitable thing to do among these experiences and adventures.
---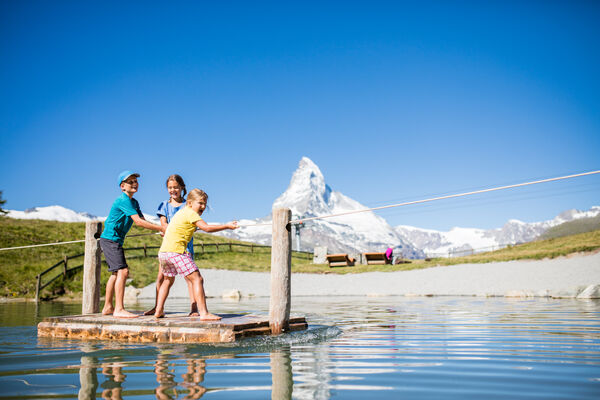 Zermatt
A fun adventure playground, with beach and barbecue areas awaits, families by the sparkling Leisee lake.
Details
Furi is at 1,867 m - easily reached by lift or on foot. In the hamlet far above Zermatt, a wide variety of mountain adventures are scheduled: grilling at...
Single ticket or return ticket Zermatt – Furi
There are many playgrounds for children and campfire sites in and around Zermatt. Families can relax, grill, or play with their children there. Fun and adventure for the entire family is guaranteed.
Details
Where is the most beautiful spot for families in Zermatt – Matterhorn? Hard to say! For little guests it's maybe in the Wolli's adventure park at Sunnegga or in the Glacier Palace. For older guests maybe in the high ropes garden or on the Schweifinen via ferrata. Or perhaps somewhere else. The selection of family exursions is great.
Experiences & activities for families
Details
Great adventures for little explorers: families can expect an exciting range of summer activities in the destination Zermatt – Matterhorn. Kickbiking, snow tubing or hiking on one of the beautiful theme trails are just three of them. True to our motto: Have an adventure together and return stronger after a holiday.
Details
Theme trail | easy
This playful exploration of climate phenomena is fun for the whole family. The Zermatt children's mascot, Wolli, lends a hand. The trip starts off with a ride up the Gornergrat, followed by plenty of surprises!
21,2 km
2,30 h
1601 m
1601 m
Details
Hiking with children can be challenging for adults. It has to be interesting, otherwise they will go on strike. In Zermatt, this challenge is much less so – variety is part of the programme.
Details
Whether it's mastering your first stem turns or racing down the slopes like a bullet – Zermatt, Täsch and Randa promise fabulous winter adventures for skiers, both young and old.
Details
Frolicking with the children in the snow and enjoying the winter. What could be better than a walk through the snowy world in and around Zermatt.
Details
Admire ice sculptures. Ride on the snow carousel. Test the hills in the Snowpark. There are many winter locations for families in the destination Zermatt – Matterhorn. For parents and children to feel comfortable during the winter holidays, there should be something for everyone during the holidays.
Details
Children want action – and do not worry about the weather. The destination Zermatt – Matterhorn offers families with children countless possibilities for action. And always guaranteed: lots of fun and entertainment.
Details