Search for "bike" returned 99 matches.
Surrounded by 38 mountain peaks over 4,000 m, the destination of Zermatt - Matterhorn is a mountain bike paradise at the foot of the Matterhorn. Ideal for children and beginners to learn mountain biking – perfect for advanced riders to refine their technique. There is something here for everyone.
Details
Want to build your confidence in mastering steps, steep passages and tight bends? This camp focuses on the basic training for optimal bike control. We work on riding position, balance and active movement on the bike. With a background in trial sport, Tom's many years of experience as a coach allow participants to make significant progress quickly.
The mountain restaurants Adler Hitta, Chämi-Hitta, Chez Vrony, Findlerhof, Fluhalp, Gitz Gädi, Paradies, Riffelhaus 1853, Simi, Schwarzsee, Mountain Lodge Ze Seewjinu, Zmutt & Zum See have charging stations for Bosch-powered e-bikes. The Adler Hitta restaurant also has a Yahama charging station and Chez Vrony has a Specialised station while the restaurants Chämi-Hitta and Paradies also have a charging station for Shimano-powered e-bikes.
Details
The "Bike Season Kick-Off" package offers perfect bike days for everyone in June. For stays of more than 3 nights, receive a 10% discount on hotel...
Overnight stay(s) in a hotel
Bike pass
The "BIG Bike Days Zermatt" package offers perfect bike days for everyone. Enjoy numerous cable car journeys* (incl. bike transport). Lying between...
Overnight stay(s) (hotel or holiday apartment)
Bikepass
Battery power makes everything easier. Only a little bit of effort is required to get from the village to the best bike trails and mountain restaurants, and you don't even need to use the cable car. You therefore have plenty of time to enjoy the panoramic mountain scenery and all the beauty of nature.
Details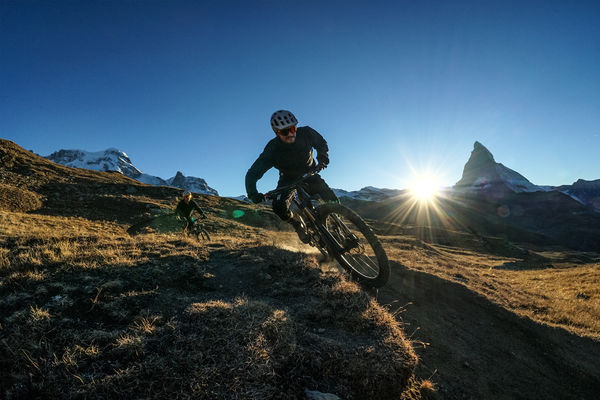 Zermatt
The first bike guiding company in Zermatt is looking forward to show you the best trails and most amazing views in Zermatt. Our guides are the perfect addition for your stress-free holidays.
Details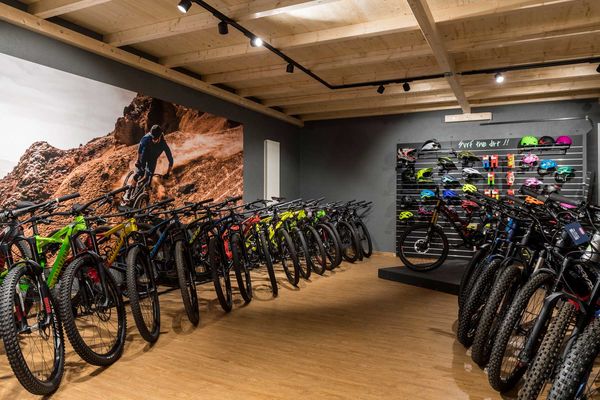 Zermatt
Bike Arena - Bikeshop and more
In summer as well as in winter we offer E-Bikes, Enduros, Mountainbikes, Kids Bikes as well as spare parts, clothes and accessoires.
Details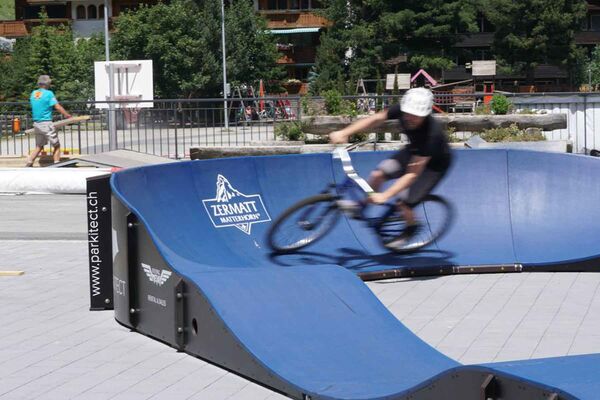 Zermatt
Zermatt's mobile pump track is the perfect opportunity for children and even experienced bikers to pursue the sport of mountain biking in the village. The mobile pump track is available on "Chrome" sports ground in Zermatt throughout the summer season. Additionally, there is also an obstacle park for children.
Details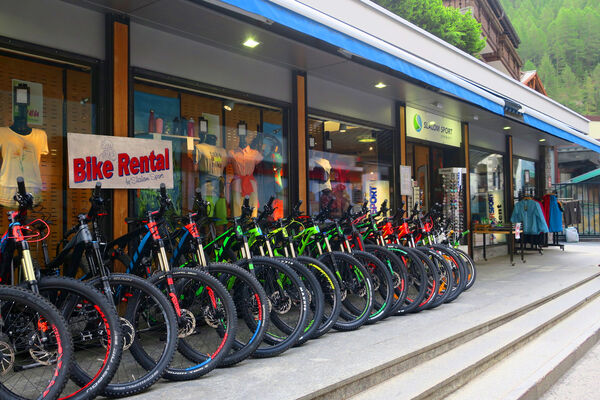 Zermatt
Your BIKE SHOP in Zermatt - since 1987
The biggest bike rental in Zermatt with professional bike service.
Details
Mountain biking | medium
The route comprises the climb from Zermatt to Sunnegga. At Sunegga there is access to many other bike routes. Alternatively you can also use the route to descend to Zermatt.
Details
Mountain biking | medium
This route is not technically challenging, but the mountain views are incredible.
7,5 km
0,50 h
103 m
457 m
Details