Search for "SNOOC" returned 2 matches.
Down the toboggan run on a Snooc
06/09/2019
From 19 December 2019, for the first time it will be possible to toboggan down the Alps' highest toboggan run - from Rotenboden to Riffelberg - on a Snooc. The Snooc is the latest generation of toboggan, where you sit on one ski. The product has a lightweight construction and is easy to use. The ski on the snow ensures a good grip and the seat guarantees a comfortable position. Take the Gornergrat railway from Zermatt to Rotenboden, where the thrilling 1.5 km descent to Rifffelberg starts. Snoocs can be hired from Rotenboden station, in the same way as a conventional toboggan.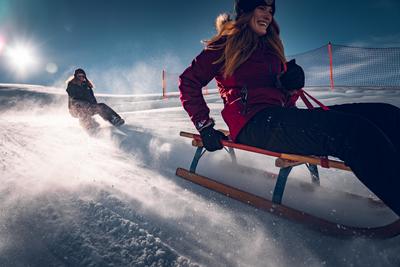 Thu 1 December 2022 - Sun 30 April 2023
Sport | Rotenboden | Zermatt
The toboggan and snooc run Rotenboden, the highest in the Alps (2'815m), has it all: 1.5km in ten minutes. Including unlimited train ride between Riffelberg...