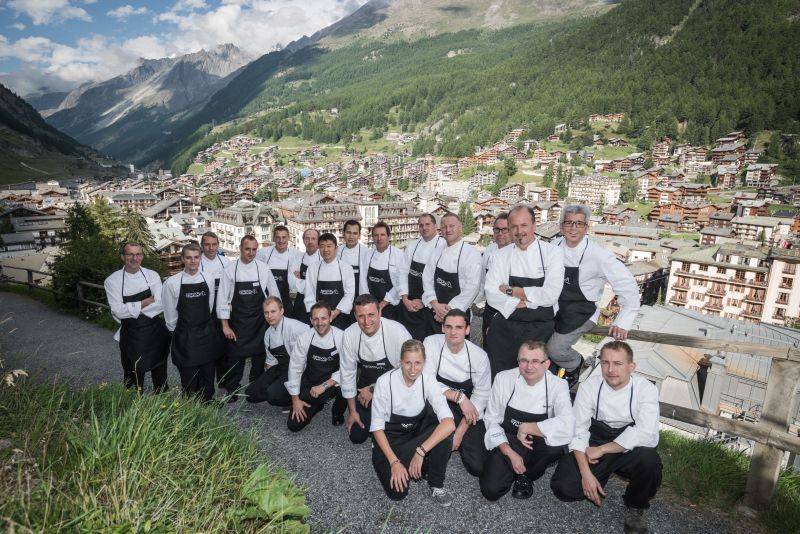 Information
The Swiss Food Festival is the weekend for connoisseurs. Three days of Swissness and exquisite culinary enjoyment are waiting for you.

Friday, 11th August 2017
On Friday evening, the top Zermatt chefs from the 19 Gault Millau restaurants will be cooking before the eyes of the Kitchen-Party guests in the Mont Cervin Palace and in the Grand Hotel Zermatterhof. On 19 stations the head chefs are preparing seasonal and regional delicacies which are served with top wines from the Valais region.

Saturday, 12th August 2017
Drink and food stands on the Kirchplatz Zermatt with music.

Sunday, 13th August 2017
On Sunday, participants can experience a brunch in the gondola with the most beautiful view from the aerial cable car. The journey takes about 70 minutes and on the way they will serve a rich breakfast.

Swiss and Valais producers also offer regional products to taste and buy throughout the day in the charming chalets on the Bahnhofstrasse, from Friday afternoon to Sunday midday.

Gondola Fondue: 7th & 14th April 2017 & 25th August 2017
Furthermore the Gondola Fondue is part of the Swiss Food Festival: As the last sunbeams of the day light up the mountain peaks around Zermatt, you will be gliding past the Matterhorn, relaxing in a cable car gondola. Enjoy a homely cheese fondue, accompanied by a refreshing drop of Valais wine. This traditional main course is framed by a choice of first courses as well as various desserts and a local schnapps.